| | |
| --- | --- |
| There are a total of 168 articles in the category All | |
05-08-2012: Rains the past week increased the flow of Pine to slightly above the normal for this time of year. Surface activity slowed with the increased flow activity. Most surface activity was late in the day, lasting for less than an hour. Nymphs and streamers produced some fish in the... click here for more
05-10-2012: It looks like we survived the rainy week. The water level is 2.6 and raising, but very fishable. A heavy rain on the west branch is just arriving in Slate Run. The color is Olive and we should have some good fishing conditions this week end. Surface activity was... click here for more
05-10-2012: Slate in in great shape for this time of. Hatches are not heavy, but some flies each day. Surface activity is not strong, but you can take some nice fish. ... click here for more
05-15-2012: Pine is in great shape at this time. We missed most of the rain that went through in this last couple of days. They are still predicting some thunder storms tomorrow. If we survive them, we are on our way to a great weekend of flies and fish. The... click here for more
05-15-2012: Slate Run is at a great flow level. Strong enough to allow the fish to be where they want to be, but low enough to be fishable. Most of the best fishing has been in the mid section to the upper section. Wonderful conditions for this time of year... click here for more
05-22-2012: Pine is in beautiful condition. We had 6 ths. of an inch of rain last night. It was very light and soaking rain, with very little run off. We have many flies on the water, including Brown Drakes, Slate Drakes, Green Drakes, Sulphurs, B.W.O.,s, Tan Caddis and Brown caddis.... click here for more
05-22-2012: Slate is running in the mid 50's and lt. olive in color. The 6ths. of an inch of rain raised it slightly, but it is in great condition. Surface activity is moderate, with a few Green Drakes showing them selfves. ... click here for more
05-30-2012: We received some relief from the hot weather that we had over the week end. Air temperatures reached the low 90's, and along with the low water conditions, Pine reached the mid 70's mid stream and the upper 70's on the shore lines. 4 tenths of an inch of... click here for more
05-31-2012; Pine is clearing and also cooling. The water temperature this morning was 66 degrees with a turbidity reading of 8.5 at Blackwell. Olive in color and very fishable. Showers and rain over the next few days should keep the srtream at a very fishable level. Slate Drakes are the... click here for more
06-02-2012: We received 6ths of an inch of rain last night. About half of that was in a cloud burst that dropped about 3 ths. of an inch of rain, and the rest was a good soaking rain. The stream is a little off color, but very fishable. I don't... click here for more
06-02-2012: We received 6ths of an inch of rain last night. About half of that was in a cloud burst that dropped about 3 ths. of an inch of rain, and the rest was a good soaking rain. The stream is a little off color, but very fishable. I don't... click here for more
06-14-2012: Saved by the rain. We received an inch of rain two days ago, and it will give us another week of fishing on Pine. It is clear enough to fish today. Flow is great for this time of year, and the temperature is in the low 60's this morning.... click here for more
06-18-2012: Slate is in very good condition. Dropping slowly. Hatches are light, but some very nice fish are being caught. Browns are moving out of Pine due to the warming waters. 06-27-2012: The runs are dropping and becoming more difficult to fish. We have had good reports on both Slate... click here for more
06-27-2012: Pine is warming and a heat wave is predicted by the end of this week. Still catching trout on Pine, but it is 70 degrees this afternoon, and air temperatures in the upper 90's predicted by the end of the week. The flow rate is slightly below the 92... click here for more
06-18-2012: We made it another week. Water stayed cool, and the trout are still working. Water tempersture is in the upper 60's. Storms are predicted tomorrow, so just may be it will give us another week on Pine. Warmer weather predicted for mid week. Hopefully it will not get as... click here for more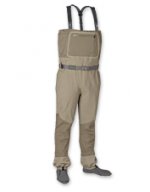 NEW Orvis Silver Sonic Convertible Top Waders are in!
New products ... click here for more
FLIES ARE HATCHING, TROUT ARE ON THE FEED!
Flies are Hatching, Trout are on the Feed! The shop is on Pine daily and the progression of the season has been a real eye opener. All we've needed to see activity has been about a degree and one-half and trout are more active as well as flies hatching. With... click here for more
08-28-2012: Water temperatures fluctuate throughout the 24 hour period and from day to day. We are having reports of trout sightings in good numbers from Blackwell all the way through Cooney's flats. Kayakers who have made the float knew what they were getting into with the low water, but took... click here for more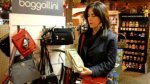 Great gifts Just In
Wolfes General Store Great new gifts are arriving at "The Store" almost daily. We have special items to stir the imagination - one-of-a-kind specialty gifts that allow you take your love of the outdoors into your home for the winter. A cozy fire is all that is needed with the... click here for more
For more information, please contact us at 570.753.8551, email us, or use our online request form.