Area Info
ATV Trails Pennsylvania

Area Information
Please click on the links below for more information:

Slate Run Tackle Shop is located in the Pennsylvania Wilds, an area of the country to which avid outdoorsmen flock to enjoy fantastic outdoor recreational opportunities. From Snowmobiling in Pennsylvania to fishing for Slate Run Trout, from visiting Pine Creek Gorge PA to Camping Pennsylvania, the area is replete with fantastic outdoor activities. Lycoming County is crisscrossed by dozens of Hiking Trails in PA that meander through our beautiful wooded region and provide spectacular glimpses of the mountainous scenery. In addition to our many Hiking Trails in Central PA, there are numerous trails devoted to all terrain vehicles (ATVs). Some of these great trails are just minutes from the village of Slate Run PA. Looking for ATV Trails in Pennsylvania? Slate Run Tackle Shop has got you covered!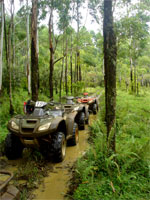 Susquehannock State Forest
ATV riders will love the Pennsylvania ATV Trails in Susquehannock State Forest. With 43 miles of trails to ride and explore, you'll pass through the gorgeous Lyman Run State Park, where you'll find parking and restrooms. Across from the forest district office, you'll find more restrooms as well as picnic tables that are ideal places to rest, refuel, and enjoy the scenery.
Sproul State Forests
There is only one ATV Trails Pennsylvania located in the Sproul State Forest, but it is worth the trip. Consisting of old mining and timber roads, this unique trail allows riders not only to enjoy the beauty of the Pennsylvania Wilds, but also to take a step back into history. While riding this trail, you'll be forced to wonder about the many individuals who walked this road before you.
Tiadaghton State Forest
You'll find 17 miles of Pennsylvania ATV Trails, which can be utilized in both the summer and the winter, in Tiadaghton State Forest. Near Haneyville, these trails are located on former Civilian Conservation Corp camps, and the trails were built and utilized by the CCC in the first half of the 20th century. These ATV Trails Pennsylvania can be accessed via Route 44, just south of Haneyville.
Those who visit Slate Run Tackle Shop in Slate Run PA have a number of diverse interests which extend far beyond Fly Fishing in Pennsylvania. We love to help our patrons discover all the fun that they can have in Lycoming County and the surrounding areas, and we will go the extra mile to help you find the best places to participate in all of the outdoor activities you love. When you make the trip to Slate Run Tackle Shop to stock up on first-rate Orvis Fishing Equipment, you'll be close to plenty of opportunities to go Pennsylvania Elk Hunting, Skiing in PA, Hiking Pennsylvania, PA Turkey Hunts, Pennsylvania Mountain Biking, Canoeing in PA, or Central PA Camping. In addition to these wonderful outdoor activities, there are a plethora of Things to Do in Central PA, including exploring the city of Williamsport PA, which is full of Restaurants Williamsport PA and even Pennsylvania Wilds Vacation Rentals.
For more information, please contact us at 570.753.8551, email us, or use our online request form.