Area Info
Dining in Lycoming County

Area Information
Please click on the links below for more information:

An outdoor enthusiast's paradise, Lycoming County PA is full of exciting recreational activities for sportsmen of all kinds. From Fly Fishing in PA for Slate Run Trout to Pennsylvania Deer Hunting, from Snowmobiling in Pennsylvania to enjoying the scenic views provided by Pine Creek Gorge PA, there is no shortage of outdoor recreation. But there are also exciting Things to Do in Central PA that don't involve the outdoors. Williamsport PA is also full of fun entertainment like shopping, museums, wineries, and more. One thing's for sure: you'll definitely work up an appetite participating in all of the great activities Lycoming County has to offer. When you do, you'll want to check out the many Restaurants in Williamsport PA, which offer a variety of cuisine.
Pizza & Fast Food
If you're looking for pizza or fast food, you can stick with the old standbys like McDonald's, Burger King, and Wendy's—or you can step out of your comfort zone and try lesser-known establishments. Long Island Pizza, located in Williamsport offers both traditional and gourmet pizzas, along with salads and specialties like stromboli and calzones. Have it delivered to your Pennsylvania Wilds Vacation Rentals or dine in! Vinnie's Italian Eatery also offers a variety of treats in addition to tradition New York pizza, like Philly Cheese Steak Sandwiches, cold and hot subs, and traditional Italian meals such as eggplant parmesan and baked ziti. These tasty treats are sure to delight your taste buds and you'll be in and out in no time so that you can spend as much of your vacation as possible exploring Slate Run PA and the surrounding areas.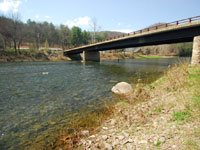 Fine Dining
If you want to take a break from all the Things to Do in Central PA and sit down to an elegant dinner, consider choosing one of the Restaurants Williamsport PA that offers fine dining. If atmosphere is what you're after, consider giving 33 East a try. Their newly renovated building and delicious Italian and Mediterranean entrées are a winning combination. LeJeune Chef is part of the Pennsylvania College of Technology, which is located in Williamsport PA. Featuring the area's most extensive wine list and a gourmet menu that is never the same two days in a row, LeJeune Chef provides a place for culinary students to hone their already exceptional skills. From regional fare to classic cuisine to gourmet dinners, you can't go wrong with LeJeune Chef. The impressive, three-floor Peter Herdic House Restaurant, which is located in the historic home of Williamsport lumber baron Peter Herdic, offers a wide selection of hors d'oeuvres, dinner entrées, and desserts. Choose from hors d'oeuvres like Spanakopita and crab-stuffed wontons, dinners like parmesan crusted shrimp and roasted hen with rosemary, and desserts like bread pudding, chocolate mousse cake, and homemade ice cream and sorbets.
Traditional American Cuisine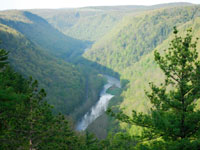 Slate Run Tackle Shop is also near a number of traditional American restaurants. The restaurant at the Hotel Manor in Slate Run PA is a great location for fine dining. With beautiful views of Slate Run, Certified Angus Beef, and a dinner menu full of inventive creations, you can't go wrong. The Bullfrog Brewery is not only a hotspot for local entertainment, but specializes in serving delicious food and their award-winning specialty brews. The Five and Dime Diner offers all of your favorite American classics with a retro 50s twist, Bird House Restaurant is the place to go for homemade cooking, and Dominic's of New York offers paninis, wraps, burgers, and more.
These are just a few of the best Restaurants Williamsport PA. With so much Stuff to Do in Williamsport PA, it is essential that the city be stocked with delicious dining options to feed its many visitors. If you want to know where to find the best Japanese food, or just want a place to stop for coffee after a relaxing day of Pennsylvania Fishing, stop by Slate Run Tackle Shop and we'll do our best to point you in the right direction. While you're here, visit our Orvis Store to stock up on Orvis Fly Fishing supplies, and browse Wolfe's General Store, where you can pick up souvenirs of your trip or gourmet treats like fine cheeses and mouthwatering steaks. Whether you're in the area for Pennsylvania Deer Hunting, Pennsylvania Elk Hunting, Pine Creek PA Fishing, Skiing in PA, Pennsylvania Grouse Hunting, Camping Pennsylvania, Kayaking Pennsylvania, Pennsylvania Mountain Biking, ATV Riding in PA, to tour local wineries, or to take in views of the awe-inspiring Pine Creek Gorge PA, you have to eat. Lycoming County PA is proud to be home to a delicious selection of cuisine as plentiful as our assortment of activities.
For more information, please contact us at 570.753.8551, email us, or use our online request form.
Listing
Address
Phone
Hotel Manor
Located in the village of Slate Run at the confluence of Slate Run and Pine Creek :: Website
Slate Run
570.753.8414
Cedar Run Inn
Located on Pine Creek in the village of Cedar Run :: Website
Cedar Run
570.353.6241
Black Forest Motel
Located at the top of the mountain, Slate Run
Black Forest
570.769.7060
Babbs Creek Inn & Pub
Located in the village of Morris
Morris
570.353.6881