Area Info
Kayaking & Canoeing

Area Information
Please click on the links below for more information:

The many rivers, streams, and creeks that flow through Lycoming County PA make it an ideal location for anglers of all kinds to test their Fly Fishing in PA skills. In fact, Slate Run Tackle Shop is located in the village of Slate Run PA, a quaint community named for the trout stream on which it is located. Many use the various rivers and streams that wind their ways through Slate Run PA for Fishing in Pennsylvania, but the rivers can be used for a number of recreational purposes, including Kayaking in Pennsylvania and Pennsylvania Canoeing. Loyalsock Creek, Lycoming Creek, Muncy Creek, Pine Creek, and White Deer Hole Creek, are just a few of the many rivers and streams that make their way through Lycoming County PA.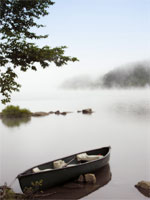 With so many rivers and streams to choose from, it is almost impossible to pick. Each has something different to offer, but all are equally scenic. Many people enjoy Kayaking Pennsylvania on Pine Creek, which is also a popular destination for Pine Creek PA Fishing. Credited with carving Pennsylvania's "Grand Canyon," Pine Creek Gorge PA, this powerful river flows quickly, making for an exciting ride, but there are also calmer pockets that are great for trout Fishing in Pennsylvania.
If you're looking for spectacular scenery, you'll want to go Pennsylvania Canoeing or Kayaking in Pennsylvania through one of its most scenic landforms, Pine Creek Gorge PA. This 18-mile section of Pine Creek PA is surrounded by towering mountains and lush wooded areas. In addition to breathtaking scenery, this section of the river offers both calm and more rapidly flowing waters, making for a diverse and challenging Kayaking in Pennsylvania experience.
A number of different areas throughout Lycoming County PA and the surrounding communities provide canoe access to Pine Creek. Some of these access areas include the Slate Run Access Area, which is just a few miles from Black Walnut Bottom, a popular Hiking Pennsylvania spot, and Gamble Run, which is just 3.9 miles from the village of Slate Run PA.
Lycoming County PA is home to a number of other rivers that are perfect for Pennsylvania Canoeing and Kayaking Pennsylvania. Perhaps the most popular of these rivers is the West Branch of the Susquehanna, which flows through the Pennsylvania Wilds. A journey down Lycoming County's branch of the Susquehanna will not only take you on an unforgettable trip through nature, but, along its shores, you may run into some interesting historical sites and structures.
Only one other state in the union can boast more miles of streams than Pennsylvania, and that state is Alaska. This means that not only is Pennsylvania a fisherman's paradise, but it is also a great place to go Kayaking in Pennsylvania and Pennsylvania Canoeing. The Pennsylvania Wilds, the area of the state in which Slate Run Tackle Shop is located, is a haven for outdoor enthusiasts. Sportsmen will love activities like PA Turkey Hunts, Grouse Hunting Pennsylvania, and Fly Fishing in PA. Nature lovers of all kinds will want to enjoy activities like Camping Pennsylvania, Skiing Pennsylvania, and exploring numerous the Hiking Trails in PA and ATV Trails Pennsylvania, as well as Mountain Biking Pennsylvania. Lycoming County is home to more than just outdoor activities, though. Our Orvis Store is also in the vicinity of Williamsport PA, which is full of modern amenities like Williamsport PA Restaurants, Pennsylvania Wilds Vacation Rentals, shops, and other great North Central PA Things to Do. There truly is something for everyone in Lycoming County PA!