Area Info
Camping

Area Information
Please click on the links below for more information:

Slate Run Tackle Shop is ideally located, not just for people who love Fishing in Pennsylvania, but for outdoor enthusiasts of all kinds. Because we are situated deep within an area of the state known as the Pennsylvania Wilds, thousands of people flock to Lycoming County PA to enjoy activities like Fly Fishing in PA, Pennsylvania Deer Hunting, Pennsylvania Grouse Hunting, Skiing in PA, Mountain Biking Pennsylvania, Canoeing in PA, and Snowmobiling in Pennsylvania. Because we are near so many great ways to enjoy the outdoors, it does not come as a surprise that camping is one of the most popular North Central PA Things to Do. Lycoming County, Slate Run PA, and Williamsport PA are all close to a number of great campgrounds that can be enjoyed by everyone. If you're looking for information on Camping Pennsylvania or some of the Best Tent Camping in PA the state has to offer, then you've come to the right place!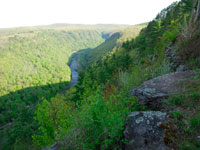 Pettecote Junction Campground
Nestled at the bottom of Pine Creek Gorge PA, Pettecote Junction Campground boasts spectacular views of the surrounding mountains. Ideal for those who enjoy Pine Creek PA Fishing, each of these Camping Pennsylvania sites is located on Pine Creek. Pettecote Junction offers a number of Pennsylvania Wilds Vacation Rentals in addition to traditional campsites. Hunters will love the fact that these Pennsylvania Campgrounds are in the midst of thousands of acres of state game lands, so Pennsylvania Deer Hunting and Pennsylvania Elk Hunting are possible in the surrounding wilderness. Hiking in Pennsylvania is a popular pastime during every season, and biking, rafting, canoeing, and Kayaking Pennsylvania are just a few of the fantastic activities offered by this one-of-a-kind campground.
Riverside Campground
In Montgomery, just nine miles south of Williamsport PA, Riverside Campground is located on the banks of the Susquehanna—a great place to go Fishing in Pennsylvania. Ninety of their camp sites include sewer hookups; all 135 offer water, electricity, and even cable. In keeping with Lycoming County's rich history, there are even three teepees on site, perfect for those adventurous campers who want to experience the most primitive of conditions. More than just a campsite, Riverside Campground is also home to the Riverside Lounge which provides great beverages and delicious food, and is home to live entertainment on the weekends. Since many outdoorsman and their families travel to Lycoming County PA to enjoy the area's diverse activities, Riverside Campgrounds provides great entertainment for kids and families, as well, including gem mining, banana bikes, softball batting cages, and canoe and kayak rentals.
Hughesville Campground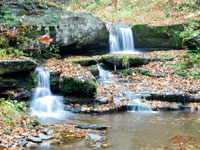 Another great site for Central PA Camping, Hughesville Campground is also located in Lycoming County. With tents, RVs, and rustic cabins, this campsite has an accommodation for every visitor. Perfect for a relaxing getaway, Hughesville Campground is a great place to go Fishing in PA, and offers a shower house, water, electricity, and a pavilion. This quiet country setting is actually just minutes from the Lycoming County Mall and great dining in Williamsport PA.
Happy Acres Resort
Happy Acres resort is another great Camping Pennsylvania site, and is also home to some of the Best Tent Camping in PA. With a lodge, rooms, cabins, tents, and RV hookups available to visitors, this Campground in Pennsylvania can meet the needs of virtually any group. Each of the mountain lots is uniquely beautiful and the pet-friendly resort is open year-round. The recently renovated Pennsylvania Wilds Vacation Rentals, laundry facilities, swimming pool, and restaurant make this one of the Pennsylvania Campgrounds you will not want to miss during your visit to the Slate Run PA Area.
The visitors who choose to stock up on Orvis Fishing Equipment at Slate Run Tackle Shop in Slate Run PA have diverse interests, which often include things like Pennsylvania Deer Hunting, PA Turkey Hunts, and Snowmobiling in Pennsylvania. Many outdoor enthusiasts also love Secluded Camping in Pennsylvania and our area is replete with great Pennsylvania Campgrounds perfect for family getaways or solo Fly Fishing in PA excursions. And the fact that Lycoming County is home to great outdoor activities doesn't mean that it's not also a fantastic place to enjoy other North Central PA Things to Do. Slate Run PA is close to Williamsport PA, a historical destination full of fantastic cultural activities, delicious Restaurants in Williamsport PA, wineries, and so much more. If you or someone in your family is an avid outdoor enthusiast, consider visiting the Slate Run PA area. You'll be surprised at the number of North Central PA Things to Do you'll find here in the Pennsylvania Wilds.
For more information, please contact us at 570.753.8551, email us, or use our online request form.
| Listing | Address | City | Phone |
| --- | --- | --- | --- |
| Pettecote Junction Campground | 400 Beach Road | Cedar Run | 570.353.7183 |
| Riverside Campgrounds | 125 South Main Street | Montgomery | 570.547.6289 |
| Hughesville Campground | 199 Race Street | Hughesville | 570.584.2882 |
| Happy Acres Resort | 3332 Little Pine Creek Road | Waterville | 570.753.8000 |
| Black Forest Campground | Route 44 | Slate Run | 570.769.7445 |
| Bit of Heaven Campground | | Cammal | 570.753.8555 |