Area Info
Hiking in PA

Area Information
Please click on the links below for more information:

At Slate Run Tackle Shop in Slate Run PA, we carry only the best Orvis Fishing Equipment. Those who love Fly Fishing in PA flock to our Orvis Store not only to pick up the latest Fishing in PA gear, but to explore the vast wilderness in which Slate Run Tackle Shop is located. Situated deep within the area known as the Pennsylvania Wilds, Slate Run Tackle Shop is near fantastic outdoor activities, including Snowmobiling in Pennsylvania, Skiing Pennsylvania, Pennsylvania Grouse Hunting, Pennsylvania Elk Hunting, and Camping Pennsylvania. Another activity that is always popular with the outdoorsmen who visit Slate Run Tackle Shop is Hiking in PA, and our area is crisscrossed by innumerable hiking trails that wind through the deep, mountainous wilderness of the Pennsylvania Wilds.
The Black Forest Trail
Located in Lycoming County and just minutes from the village of Slate Run PA, the Black Forest Trail traces the shoreline of Pine Creek, the river credited with carving out the "Grand Canyon of Pennsylvania," Pine Creek Gorge PA. The 42.1-mile loop that makes up the Black Forest Trail is the perfect place to go to see some of the most spectacular scenes in the Pennsylvania Wilds, as it boasts views of not only Slate Run PA and Pine Creek, but also Morris Run, Big Dam Hollow, and Naval Run. A great trail to take to a secluded Pine Creek PA Fishing spot, the Black Forest Trail is sometimes steep, but the beautiful views make the effort worthwhile.
The Loyalsock Trail
This 59.3-mile footpath is maintained by the Alpine Club of Williamsport, who make sure that it is well marked. Traveling from Montoursville to Ringdale on this lengthy trail, hikers will be treated to views of Loyalsock Creek, as well as various mountain streams, lakes, ponds, and even waterfalls. This Hiking Pennsylvania trail follows the ridgeline, offering spectacular views of the vistas below.
The Mid State Trail
The Mid State Trail is actually a system of trails referred to as the Mid State Trail System. It reaches from Northern Pennsylvania all the way to the Mason-Dixon line in Maryland. This enormous system of Hiking in PA trails encompasses an array of interesting sights and attractions. Hikers will be able to view a covered bridge circa 1879, the Broad Top Railroad Grade, two fire towers, three state forest wild areas, game lands for Pennsylvania Deer Hunting and Pennsylvania Elk Hunting, picnic areas, recreational areas, the Great Island Indian Path, and even the Woolrich Factory Outlet Store. It covers a total of 319 miles and holds the distinction of being the "Wildest Trail in Pennsylvania."
Pine Creek Rail Trail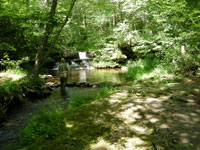 The Pine Creek Rail Trail can be easily accessed by those who park in the Black Walnut Bottom Parking Area. Those who park at Black Walnut Bottom will also have access to Central PA Camping, as well as Kayaking in Pennsylvania access. The Pine Creek Rail Trail is a the result of a collaboration between the Department of Conservation and Natural Resources and local counties to transform obsolete railroads into fantastic walking and biking trails for the public's benefit. The trail, which runs for approximately 62 miles, has been constructed of tightly packed stone and has a grade of about 2%, making for an easy and enjoyable Hiking in PA or biking experience.
A number of other trails traverse Lycoming County and the area around Slate Run PA. The Chuck Keiper Trail, Donut Hole Trail, Golden Eagle Trail, Old Loggers Path, Susquehannock Trail, West Rim Trail, Bob Webber Trail, and Keystone Mountain Shared are just a few of the trail that pass through the Pennsylvania Wilds around the village of Slate Run PA in Lycoming County. These paths are great for nature lovers of all kinds, but it is important to remember that a camping permit is required for out of car Camping Pennsylvania; however, a one-night stay on these trails does not always require a permit. Make sure to check with local forest districts to make sure that you have the proper permits.
Whether you'd like to observe wildlife in its natural habitat, go Fly Fishing in PA, Hunting Deer in Pennsylvania, Pine Creek PA Fishing, Skiing Pennsylvania, Mountain Biking Pennsylvania, or exploring ATV Trails Pennsylvania, you'll want to explore the many paths and trails that meander through the Pennsylvania Wilds. When you visit Slate Run Tackle Shop, we'll be delighted to point you in the direction of some of the area's best wilderness trails for Hiking Pennsylvania, as well as some of our favorite Things to Do in Central PA, great Williamsport PA Restaurants, fantastic Pennsylvania Wilds Vacation Rentals, and places to go Camping Pennsylvania.
Maps of these great Hiking Pennsylvania areas are available in forest district offices.
For more information, please contact us at 570.753.8551, email us, or use our online request form.
| Listing | Address | City | Phone |
| --- | --- | --- | --- |
| District 12 (Tiadaghton State Forest) | 423 E Central Ave | South Williamsport | 570.327.3450 |
| District 15 (Susquehannock State Forest) | PO Box 673 | Coudersport | 570.724.2568 |
| District 10 (Sproul State Forest) | 15181 Renovo Road | Renovo | 570.923.6011 |
| District 16 (Tioga State Forest) | One Nessmuk Lane | Wellsboro | 570.724.2868 |