Area Info
Duck and Dove Hunting

Area Information
Please click on the links below for more information:

Fly Fishing in PA, Snowmobiling in Pennsylvania, Kayaking in Pennsylvania, and Pennsylvania Deer Hunting are just some of the fantastic outdoor activities that draw people to Slate Run PA. Many of the patrons of Slate Run Tackle Shop are enthusiastic outdoorsmen who thrive on any opportunity to spend time in the unspoiled wilderness of Lycoming County PA. Though a large number of those who visit Slate Run Tackle Shop come to our area for fabulous Fishing in PA, many are delighted by all of the exciting activities that are available in Lycoming County. PA Turkey Hunts and Pennsylvania Grouse Hunting are two activities that offer some of the same rewards as Fishing in PA, such as the chance to improve one's natural prowess and the opportunity to spend time in the great outdoors.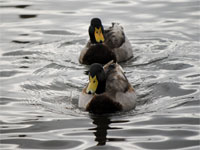 An area of the nation that is generally home to large numbers of game, both large and small, Lycoming County PA is a promising prospect for hunters of all kinds. According to some experts, the North Central region of Pennsylvania, in which Lycoming County PA is located, is home to some of the largest populations of grouse in the state, making it a prime location for Grouse Hunting Pennsylvania. The 161,600 acres of the nearby Tioga State Forest make an ideal habitat for these prized game birds, and the newly timbered lands of SGL 66 in neighboring Sullivan County are also perfect for Pennsylvania Grouse Hunting.
The turkey is another prized bird amongst local hunters, and during PA Turkey Season, you'll find plenty of opportunities to go on PA Turkey Hunts. PA Turkey Hunts can be enjoyed throughout the state, where over 1.4 million acres of state game lands encourage such pursuits. There are also numerous state forests and state parks where PA Turkey Hunts can be enjoyed and Lycoming County's SGL 252 boasts a large population of these magnificent birds. Populations are high in neighboring counties, as well. PA Turkey Season takes place in late spring.
Lycoming County PA is a hunter's paradise. Full of exceptional opportunities for activities like Grouse Hunting Pennsylvania, PA Turkey Hunts, Pennsylvania Deer Hunting, and Pennsylvania Elk Hunting, Lycoming County is the perfect destination for a solitary hunting trip or a group hunters' getaway. Not only is Lycoming County PA a great place for hunting, but it is also a haven for anglers who enjoy Fishing in PA for Slate Run Trout in the stream for which Slate Run Tackle Shop is named. With innumerable opportunities to enjoy outdoor recreation, breathtaking scenery, and unique cultural activities, Lycoming County PA is the perfect vacation destination for virtually any family or group. With great entertainment like Restaurants Williamsport PA, Snowmobiling in PA, Skiing in Pennsylvania, ATV Riding in PA, Mountain Biking Pennsylvania, Camping Pennsylvania, Hiking Pennsylvania, great Pennsylvania Wilds Vacation Rentals, and many other North Central PA Things to Do, Slate Run PA in Lycoming County has something for everyone. Next time you're in the Williamsport PA area, plan on paying a visit to Slate Run Tackle Shop, where you can stock up on not only top-of-the-line Orvis Fly Fishing gear, but also unique gifts and gourmet food at Wolfe's General Store.
For more information, please contact us at 570.753.8551, email us, or use our online request form.
| Listing | Address | City | Phone |
| --- | --- | --- | --- |
| Pennsylvania Game Commission | 2001 Elmerton Avenue | Harrisburg | 717. 787.4250 |