Area Info
Pine Creek Gorge PA

Area Information
Please click on the links below for more information:

Lycoming County PA and the surrounding area are full of North Central PA Things to Do. From Grouse Hunting Pennsylvania to Winter Fly Fishing Harrisburg, from Pennsylvania Deer Hunting to Snowmobiling in Pennsylvania, there are an almost endless number of ways to enjoy the beautiful Pennsylvania wilderness in and around Slate Run PA. Since our customers tend to be avid outdoor enthusiasts, we like to inform them of some of the great places to enjoy the outdoors in and around Lycoming County. Close to Slate Run PA, Pine Creek Gorge PA is a special place where visitors can enjoy a myriad of outdoor recreation, in addition to some breathtaking scenery.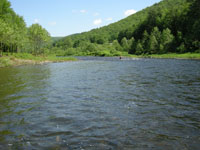 Formed by the steady flow of Pine Creek coupled with glacial activity that took place during the last ice age, Pine Creek Gorge PA is an impressive, 1,000-foot-deep gorge that cuts through the mountains of Tioga State forest for approximately 47 miles. This National Natural Landmark is so called because it contains some of the oldest undisturbed forests in Pennsylvania. Today, much of Pine Creek Gorge PA is covered in century-old secondary hardwood forest, but several old-growth areas remain untouched and still flourish. Also referred to as the "Grand Canyon of Pennsylvania," the gorge is a fantastic place for nature lovers to take in one-of-a-kind views and participate in all of their favorite outdoor activities. Hiking in Pennsylvania, Pennsylvania Mountain Biking, and Central PA Camping are all popular ways for people to enjoy the fabulous views and many miles of scenic trails.
Colton State Park in Tioga County PA, just one county north of Lycoming County PA, boasts fantastic views of Pine Creek Gorge PA and is home to a plethora of great North Central Pennsylvania Things to Do. While hiking the park's several different trails—the Rim Trail, Turkey Path and the 57-mile-long Pine Creek Trail—visitors will be rewarded with unparalleled glimpses of the canyon and have the opportunity to observe wildlife and vegetation. If you decide to take a hike down into the canyon where Pine Creek flows, why not bring along your fishing gear? With several great Fishing in Pennsylvania spots, anglers love to fish for trout, smallmouth bass, and panfish in this unforgettable setting. Snowmobiling in Pennsylvania is also popular at Colton State Park. With picnic tables, restrooms, and convenient parking, Colton State Park's trails open the day after the close of deer season in December.
Pine Creek Gorge PA is a great place to visit, and Pine Creek PA Fishing is second to none. Not far from Slate Run Tackle Shop in Lycoming County PA, Pine Creek Gorge PA is a sight that simply can't be missed. Swing by Slate Run Tackle Shop for some genuine Orvis Fishing Equipment and take the short trip to Pine Creek Gorge in the neighboring county where you can enjoy fantastic views, great Fly Fishing in PA, fantastic ATV Trails Pennsylvania, Canoeing in PA, Skiing in Pennsylvania, camping, hunting, bird-watching, and more. Lycoming County PA and the surrounding counties are full of exciting activities for outdoorsmen of all ages. Outdoor enthusiasts will revel in fantastic activities like PA Turkey Hunts, Fly Fishing in PA, Snowmobiling in Pennsylvania, and Pine Creek Fishing. There is no shortage of ways to enjoy the outdoors in the area that surrounds slate Run Tackle Shop in Lycoming County PA!
For more information, please contact us at 570.753.8551, email us, or use our online request form.