Area Info
Skiing Pennsylvania

Area Information
Please click on the links below for more information:

Slate Run Tackle Shop is located in the Pennsylvania Wilds, the name given to an unspoiled region of Pennsylvania that spans several counties. This vast expanse of untouched nature draws outdoorsman of all kinds to Lycoming County PA for a variety of different reasons. Pennsylvania Deer Hunting, PA Turkey Hunts, Snowmobiling in PA, Camping Pennsylvania, Fly Fishing in PA, Pennsylvania Mountain Biking, and Hiking Pennsylvania are all popular activities among the many outdoor enthusiasts who travel to the Pennsylvania Wilds. Another popular activity in our area is Skiing Pennsylvania. Though most don't automatically associate the state of Pennsylvania with great skiing, it is a popular activity in our area during the winter months. A number of fantastic trails—including the George Will (5.6 miles), Ruth Will (2.96 miles), Sentiero Dishay (13.2 miles), Pine Bog (2.1 miles), Pitch Pine (2.4 miles), Francis X. Kennedy (4.6 miles), and Pine Creek Trail (72.0 miles)—wind through the area offering prime Skiing in PA opportunities to those who dare to brave the Pennsylvania Wilds.
The Pine Creek Trail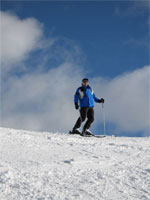 The Pine Creek Trail is 57 miles in length and offers fantastic cross country skiing opportunities in Lycoming County. It is located along the bottom of Pine Creek Gorge PA, a fantastic place for Pine Creek Gorge Fishing that offers spectacular views of the surrounding canyon. Skiers may enjoy sightings of such wildlife as bear, deer, or coyotes.
Ruth Will Trail
At only 2.9 miles, the Ruth Will Trail is short in comparison to many of the area's other Skiing Pennsylvania trails. Though short, the trail is full of exciting sights, like several historic structures, impressive plant life, gorgeous glimpses of Young Woman's Creek, and unforgettable panoramas.
George Will Trail
Named for George B. Will, who patrolled these forests as a ranger in the early twentieth century, this 5.6-mile trail is mostly flat, which makes for an easy trip along the top of the Tiadaghton Plateau.
If you visit the Pennsylvania Wilds in the wintertime, make sure you take part in one of the area's most popular winter sports, Skiing Pennsylvania. Lycoming County is laden with fantastic recreational opportunities like Snowmobiling in Pennsylvania, Pennsylvania Deer Hunting, Pennsylvania Grouse Hunting, Central PA Camping, Canoeing in PA, ATV Riding in PA, and so much more. Slate Run PA, the village in which our Orvis Store is located, is right in the midst of this outdoor paradise. We provide our customers with the best Orvis Fly Fishing gear so that their Fishing in Pennsylvania experience will be one that they will never forget. No matter how you choose to enjoy the outdoors, Lycoming County PA is home fantastic Things to Do North Central PA, delicious Restaurants Williamsport PA, and so much more!