Area Info
Mountain Biking Pennsylvania

Area Information
Please click on the links below for more information:

Slate Run Tackle Shop in Lycoming County PA is a fantastic place for anglers to stock up on Orvis Fishing Equipment. Slate Run Tackle Shop is a virtual Mecca for those who love Fly Fishing in PA. Not only can we meet all of your Fishing in PA needs, but we are close to some of the most authentic wilderness in Pennsylvania, which means that we are just minutes from great outdoor recreation like Pennsylvania Elk Hunting, Hunting Deer in Pennsylvania, PA Turkey Hunts, Pennsylvania Grouse Hunting, Snowmobiling in Pennsylvania, Cross Country Skiing in PA, and so much more. With innumerable outdoor activities to choose from, it is often difficult to decide how to spend time in Slate Run PA. One of the most enduringly popular of the many outdoor pastimes our area has to offer is Mountain Biking Pennsylvania, and there are a number of prime Mountain Biking Pennsylvania locations throughout the Pennsylvania Wilds.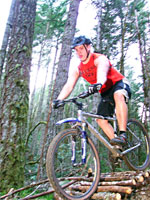 One of the most popular locations for Mountain Biking Pennsylvania is the Pine Creek Rail Trail, which winds through both Lycoming County PA and the neighboring Tioga County. The long history of the Pine Creek Rail Trail began in the late 1800s, when the area's many railways constructed the first tracks through what was then a wooded area. The railroads changed hands numerous times throughout the years, and in 1988, the very last freight trained traveled the tracks. Soon afterward, the Rails-to-Trails Conservancy (RTC) was able to purchase the outdated railroad and turn it into prime Pennsylvania Mountain Biking, Hiking Pennsylvania, and Horseback Riding in Pennsylvania property. Now sheltered by 100-year-old forests, the mountains that surround the Pine Creek Rail Trail are teeming with wildlife, as the area has become a sanctuary for all kinds of animals. The Pine Creek Rail Trail PA winds right through Pine Creek Gorge PA, also known as the "Grand Canyon of Pennsylvania," offering spectacular views of the impressive canyon. With an abundance of wildlife and gorgeous views, it is no surprise that USA Today rated this 64-mile Pine Creek Rail Trail in Pennsylvania one of the top 10 places to enjoy a bike tour—not just in Pennsylvania, but in the world. For an easy ride with unparalleled views, visit the Pine Creek Rail Trail PA.
There are a number of other fantastic Mountain Biking Pennsylvania trails in Lycoming County and the surrounding areas, including the Susquehanna Heritage Greenway, a 4-mile trail that winds though Susquehanna State Park. Each of these fantastic trails offers cyclists the opportunity to experience the breathtaking scenery and abundant wildlife of Pennsylvania firsthand, making for an unforgettable experience each time you ride. With such an array activities, Lycoming County PA is the perfect destination for everyone from the outdoorsman to the wine connoisseur. The Pennsylvania Wilds draw outdoor enthusiasts of all kinds with the innumerable recreational activities they offer, like Fly Fishing in PA, and Snowmobiling in PA, Cross Country Skiing in PA, Kayaking Pennsylvania, and exploring the many Hiking Pennsylvania trails and ATV Trails Pennsylvania. History buffs will enjoy the many museums that recount Williamsport PA's rich heritage, and those who love modern entertainment will be enchanted by the many Restaurants Williamsport PA and shops that line the city's streets. Slate Run Tackle Shop offers a full range of Orvis Fishing Equipment, in addition to gourmet foods and unique gifts. Our one-of-a-kind Orvis Store is your one-stop shop for all of your Fly Fishing in PA needs, and we hope you'll stop by next time you're in the Slate Run PA area!