Area Info
Pennsylvania Deer & Elk Hunting

Area Information
Please click on the links below for more information:

The Pennsylvania Wilds are famous for being an area to which outdoorsmen can travel to participate in some of their favorite pastimes. Our Orvis Store, Slate Run Tackle Shop, caters to anglers who love Fly Fishing in PA and sells only the best Orvis Fishing Equipment, along with unique gifts and gourmet foods. Many of our customers are avid wilderness enthusiasts who live to spend time in the great outdoors. These men and women are partial not only to Pine Creek PA Fishing, but to activities like PA Turkey Hunts, Snowmobiling in Pennsylvania, Skiing in Pennsylvania, and Central PA Camping. Another activity that strikes a chord with many of our patrons is hunting. Fishing in Pennsylvania and hunting go hand in hand as both activities provide challenge, excitement, and the opportunity to spend time the outdoors. Deer Hunting in Pennsylvania and Elk Hunting Pennsylvania are two popular pastimes in our area of the Pennsylvania Wilds.
In the Pennsylvania Wilds, you'll find some of the best stocked of our country's game lands. From small game like waterfowl, rodents, and birds, to the larger black bears, deer, and elk, Pennsylvania is a hotspot for hunting. Deer Hunting in Pennsylvania and Elk Hunting Pennsylvania is possible in a number of environments, from the area's hardwood forests to its agricultural fields.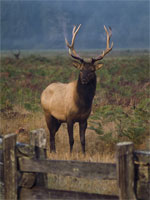 One of the best places to go Pennsylvania Deer Hunting is State Game Lands (SGL) 252, just south of Williamsport PA. Located on 3,000 acres, this unique game land is next to the Allentown Penitentiary. The farmland, thin woods, and numerous deer in this area make it perfect for Pennsylvania Deer Hunting. SGL 252 provides both flatter ground than many of the other state game lands and sweeping views that allow hunters to see for miles and it is highly accessible. With so many pros, perhaps its only con is that it is popular with local hunters, so those seeking solitude might consider another location for Pennsylvania Deer Hunting.
Pennsylvania Elk Hunting has been a popular pastime and means of survival since the earliest settlers arrived in Lycoming County PA, and recent years have spelled success for local elk hunters. The early European settlers exploited the elk to the point of extinction; by the 1870s, a species that once roamed almost the entire eastern seaboard had virtually vanished, and not a single elk could be found in Pennsylvania. In an attempt to replenish the elk population, the Game Commission imported elk from Yellowstone National Park in 1913. These Yellowstone elk slowly repopulated Pennsylvania. Pennsylvania Elk Hunting remained a touchy subject for the better part of a century, but once the government decided that the transplanted population had gained a good enough foothold in their new environment, it implemented a system that would allow elk to be hunted in healthy numbers. Today, the government limits the number of people who can participate in Pennsylvania Elk Hunting to only thirty individuals per season. Hunters apply and are picked at random; their chances of being picked go up each year that they apply but are not selected. In 2009, Pennsylvania Elk Hunting success rates were up by 73%, with forty-four elk harvest during the entire season. The success is attributed to more plentiful food sources as well as better management of the species.
Deer Hunting in Pennsylvania and Pennsylvania Elk Hunting are two popular pastimes in which many of the outdoor enthusiasts who visit Slate Run Tackle Shop love to participate. Whether you love Pennsylvania Deer Hunting, Pennsylvania Elk Hunting, Duck Hunting in Lycoming County, or Dove Hunting in Lycoming County, you'll have plenty of opportunities to put your skills to the test when you visit Slate Run Tackle Shop and the surrounding areas. When you visit Slate Run Tackle Shop in Slate Run PA to procure Orvis Fishing Equipment, you'll be entering one of the state's most authentic wildernesses, the Pennsylvania Wilds. Here, you'll have the opportunity to participate in great recreational activities like Camping Pennsylvania, Hiking in Pennsylvania, touring local wineries, Fly Fishing in PA, ATV Riding in PA, Kayaking in Pennsylvania, Pennsylvania Mountain Biking, Pennsylvania Grouse Hunting, and more. Travel to Pine Creek Gorge PA to take in the unparalleled scenery, visit the Restaurants Williamsport PA for some delicious fare, or participate in some of the other Things to Do in Central PA like shopping or visiting the area's many museums and historical sites. Our area is full of affordable Pennsylvania Wilds Vacation Rentals that are perfect for groups, families, and those traveling solo, and the Pennsylvania Wilds of Lycoming County are an ideal vacation destination for virtually anyone.
| Listing | Address | City | Phone |
| --- | --- | --- | --- |
| Pennsylvania Game Commission | 2001 Elmerton Ave | Harrisburg | 570.546.5917 |