Area Info
Fishing in PA

Area Information
Please click on the links below for more information:

Slate Run Tackle Shop in Slate Run PA specializes in providing only the finest Orvis Fishing Equipment for the many locals and visitors alike who enjoy spending their time Pine Creek PA Fishing. Full of many great streams for both fishing and Fly Fishing in PA, our area of Pennsylvania is idea for anyone who enjoys Fishing in Pennsylvania, and Slate Run Tackle Shop stocks only the best gear.
Pine Creek PA Fishing is some of the most popular in the area of Slate Run PA. Not only does the river provide great trout fishing opportunities, but it is one of the most scenic in the state and is credited with the formation of the Pine Creek Gorge PA, popularly know as "the Grand Canyon of Pennsylvania." Beginning as a small stream, Pine Creek eventually turns into a sizeable river, at times reaching 200 feet in width, before it flows into the West Branch of the Susquehanna near Blackwell, Pennsylvania. Though it is a large river, Pine Creek is generally easy to wade, and is calm enough for beginners and children. One of the most sought-after fishing destinations in Lycoming County PA, the river is joined by Cedar Run and Slate Run, both of which are considered fantastic places for Fly Fishing in PA.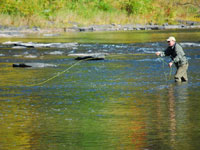 Slate Run, for which Slate Run Tackle Shop is named, is also known as a great trout fishing location. Portions of Slate Run are located in Tioga State Forest in both Tioga County and Lycoming County PA. This Class A wild trout stream is full of brook and brown Slate Run Trout, and has been managed under restrictive harvest regulations for many years. Open to anglers all year round it is managed by Heritage Angling Regulations, meaning that those Fishing in Pennsylvania for Slate Run Trout must use fly fishing tackle, including flies and barbless hooks, and must immediately release their Slate Run Trout back into the stream. Slate Run PA offers fishermen crystal-clear water with very little sediment, that is full of not only brook and brown trout, but also blacknose dace, longnose dace, slimy sculpins, and white suckers.
In addition to these fantastic Fly Fishing in PA rivers, Slate Run PA and Williamsport PA are close to dozens of ideal Fishing in PA rivers. Loyalsock Creek is one of Lycoming County PA's most visited Fly Fishing in PA creeks, and Kettle Creek, First Fork Sinnemahoning, and Bald Eagle Creek are also located in Central Pennsylvania, making them all just a short distance from Slate Run Tackle Shop.
Slate Run PA is an ideal location for outdoor enthusiasts of all types. PA Turkey Hunts, Snowmobiling in Pennsylvania, Central PA Camping, Skiing Pennsylvania, exploring the numerous Hiking in PA trails, ATV Trails Pennsylvania, Pennsylvania Mountain Biking, Canoeing in PA, and Pennsylvania Deer Hunting are just some of the North Central PA Things to Do that will appeal to outdoorsman of all kinds. In addition to wonderful activities Lycoming County is also home to fantastic shopping, Restaurants Williamsport PA, a number of wineries, and diverse community and cultural events that can be enjoyed by all. Our tackle shop and guided tours are perfect for those looking for an exciting way to enjoy all of the great outdoor recreation that Lycoming County PA has to offer, and we would be happy to provide you with any assistance we can offer when it comes to your Fishing in Pennsylvania needs. Our area is replete with Pennsylvania Wilds Vacation Rentals and Pennsylvania Campgrounds, so there is no better time than the present to begin planning you next visit to Slate Run PA.
For more information, please contact us at 570.753.8551, email us, or use our online request form.